Small Kioti tractor didn't cost the earth
07/10/2019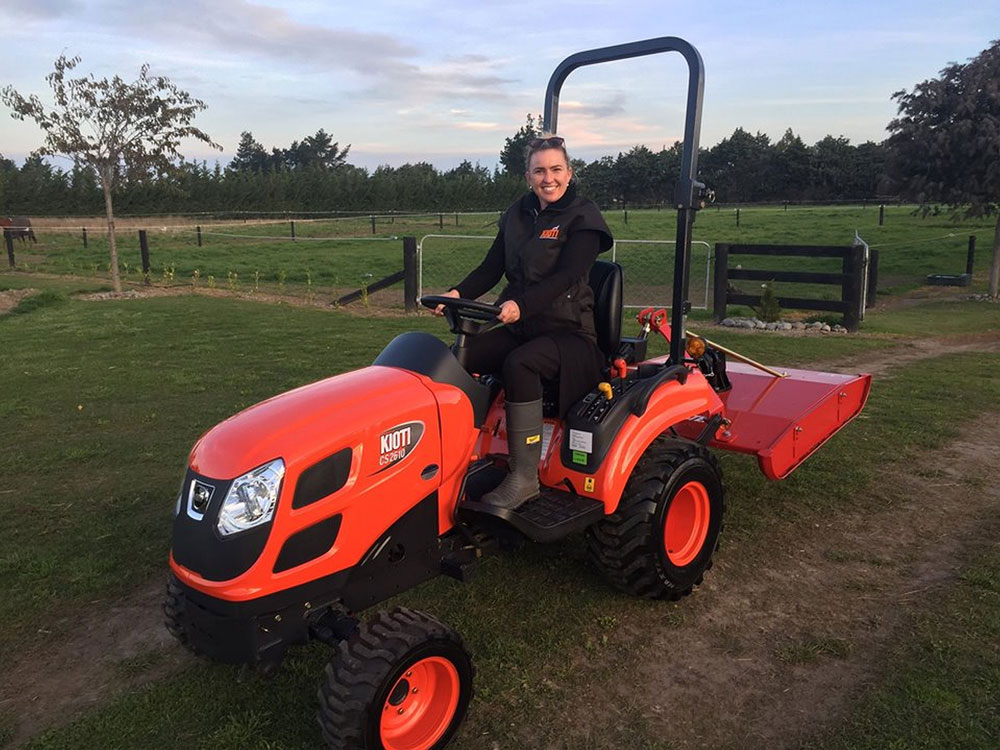 A home in the country usually brings with it a little work so Bronwyn Baird figured on buying a tractor.
Her lifestyle block at West Melton, near Christchurch, runs to 4ha split into 10 paddocks where her animals reside. Wanting to keep the paddocks at their best she typically tops them three or four times a year.
At first, she looked for a small, good condition second-hand tractor. But when a friend pointed her to the Kioti brand she visited a local dealer and was surprised to find a new tractor fell inside her budget.
Fast forward two years and Baird now sings the praises of her Kioti CS2610, noting the quality of the tractor and the great value for money.
Powered by a 3-cylinder diesel engine that pushes out 26hp, the compact Korean also has a convenient hydrostatic transmission with twin pedals for easy forward or reverse control.
Add to that stepless speed control, in a choice of two ranges, and it means there's a speed for every job on the property.
The machine's flat platform gives easy access and dismounting, controls are grouped to the left and right of the seat and a comprehensive dashboard shows and enables control of the tractor's main systems.
Baird said, "The Kioti is as easy to operate as a ride-on mower, everything falls to hand and the power steering makes it very manoeuvrable, so it's easy to live with."
She uses it exclusively with a rear mounted slasher/topper. It always has plenty of power and is easy on fuel.
Baird said of the tractor's reliability, "It's not something we use every day, so sometimes it will sit for weeks as a favourite sunbathing spot for the cats. Despite this it always starts first time and never gives any problems."
Her local dealer is just down the road at Rolleston so Baird knows after sales support is only a phone call away. Her peace of mind reinforces her good decision in choosing the Kioti, she says.
She summed up the CS2610: "Exceptional value for money and a great little tractor, so much so we have pointed a number of friends in the same direction."
Written by Mark Daniel
---