Kioti PX1153 is a Great Fit
10/12/2020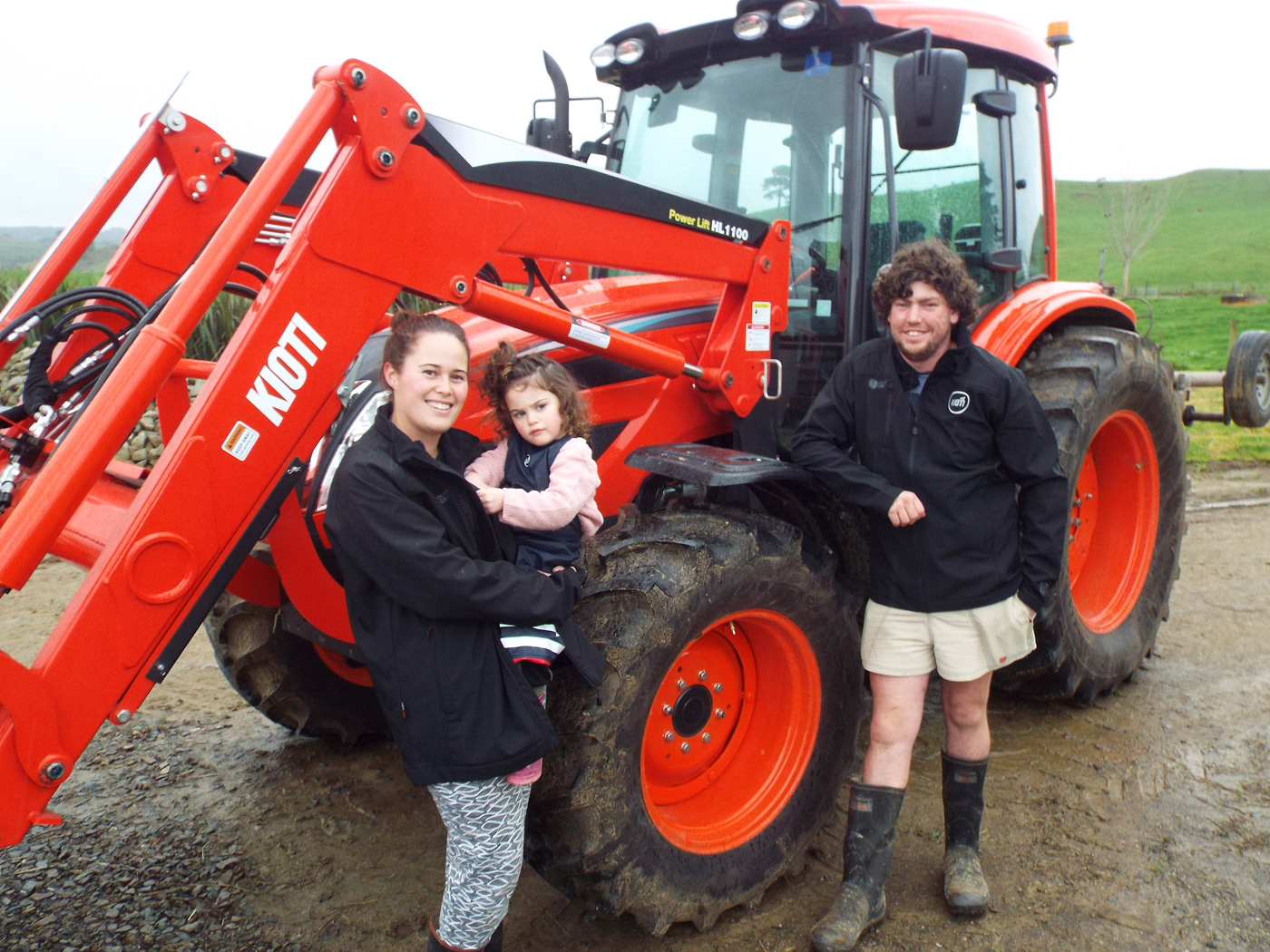 Josh and Sarah Gourley don't believe in standing still. Only in their mid-twenties, they operate a 50ha lease block at Te Puna, running 60 beef cows and take the calves to 6-12 months before they get moved on, while also contract milking at a 200ha property nearby.
Looking at replacing an older tractor and wanting bang for their bucks, research saw them making a trail to their local Kioti dealer, Power Farming Bay of Plenty located at Barkes Corner Tauranga, then shaking on a deal for a bright orange PX1153.
Josh comments, "When we started looking at tractors, we thought our modest budget would land us an 80 or 90hp ROPS machine, but we ended up pleasantly surprised, when for a little more, we ended up with a 115hp cabbed tractor."
The Kioti PX1153 is fitted with a Perkins, 4.4 litre 4-cylinder that in turn is mated via a wet clutch to Kioti's own 32F/32R transmission featuring power shuttle, four main speeds, four ranges and two, "on-the-move" powershift steps.
The Gourley's comment on the spacious cabin that offers excellent forward and reverse visibility making it ideal for their work which centres around loading baleage and delivering it to the cows via a rear-mounted feeder. The front-end loader, controlled by a handy joystick in the panel to the driver's right, offers self-levelling, making working with heavy square bales easy and came standard with a 4-in-1 bucket. This raised eyebrows at first but quickly became very useful for grabbing rubbish like baleage wrap, but also for things like just picking up a few posts to go fencing.
Summing up the nuggety Kioti, Josh comments, "Although competitively priced, the Kioti comes standard with features that are extra on most utility tractors, or only found on much bigger machines. These include a de-clutch button, the integrated loader joystick, a cool-box and the big, air-conditioned cabin. Add to that electronic linkage, 75l/min hydraulic flow and 440/540 radial tyres and it all adds up. We didn't set out to buy a 115hp tractor, but now it's here and it has enough power so we don't have to push it as hard as we would with a smaller tractor. We see it as having future-proofing our operation, which we hope over the next few years will see us move towards share milking and ownership. It gives us peace of mind, particularly as it comes with a 4-year driveline warranty as standard, so we think it was a very shrewd buy."
Written by Mark Daniel
---