Ticked all the boxes of the wish list
14/01/2020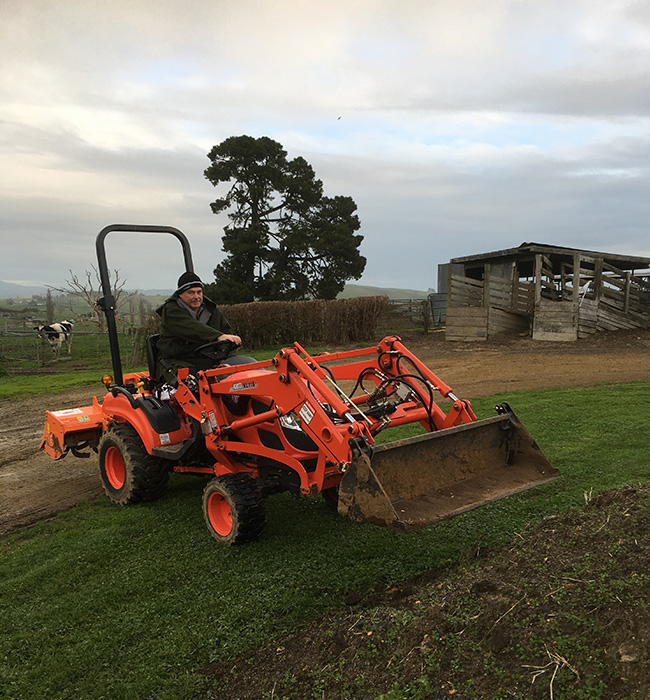 Dave Evans, a "hand on guy" originally from the north-west of England, now calls home a lifestyle block on the outskirts of Te Awamutu. Once Dave's new house was built, he set about landscaping the surrounds, alongside establishing a new driveway for improved access.
That task falls to a Kioti CS2610 sub-compact tractor, recommended by Mike Whitburn, Sales Manager from local dealer Power Farming Te Awamutu. Purchased as a package, the compact Kioti arrived with a front-end loader and 4 in 1 bucket, a 60-inch mid mount rotary mower deck and a rear-mounted, 1.200mm -wide rotary hoe. So far, the tractor has "clocked up" around 130 hours since it's arrival in March and in Dave's words "Ticked all the boxes of the wish list."
Dave comments, "The tractor is incredibly powerful for its compact size." That power is delivered by a 3-cylinder diesel engine producing 26hp, that in turn, is mated to a two-range hydrostatic transmission, with forward and reverse being controlled by individual pedals on the right side of the flat platform. Speed is stepless, being controlled using the same pedals, with speed increasing as the pedal is depressed further.
While Dave hasn't done much work with the mid-mount mower at this stage, the rear mounted rotary hoe and the front-end loader have certainly been put to good use, becoming the "go-to" tools for moving soil around the property and helping to create the new driveway.
In the case of the latter job, Dave makes life easier by using the hoe to "loosen" a layer of soil, then the loader comes into play to move dirt easily, with the sequence removing the problem of working virgin soil without lots of wheel spin and shock loading of the loader and tractor. Dave makes special mention of the 4 in 1 bucket supplied with the loader, that comes in for multiple uses, such as digging and loading in the "closed" position, grabbing items with the hydraulic clam-shell, alongside grading and back-blading of the roading metal being used in the driveway construction.
Evans also notes his experiences with the team at Power Farming Te Awamutu, mentioning the excellent advice offered by Sales Manager Mike at the time of purchase and the actions of the service team who sorted out a minor problem with the positioning of the ignition switch.
Dave sums up his experience with the compact Kioti quite succinctly, commenting, "This little tractor has been a real eye-opener for me with regards to its capabilities and performance. It really has exceeded all my expectations, so much so, we would recommend it to anyone looking for such a machine."
Written by Mark Daniel
---