Compact Kioti - The Pick of the Crop
13/08/2020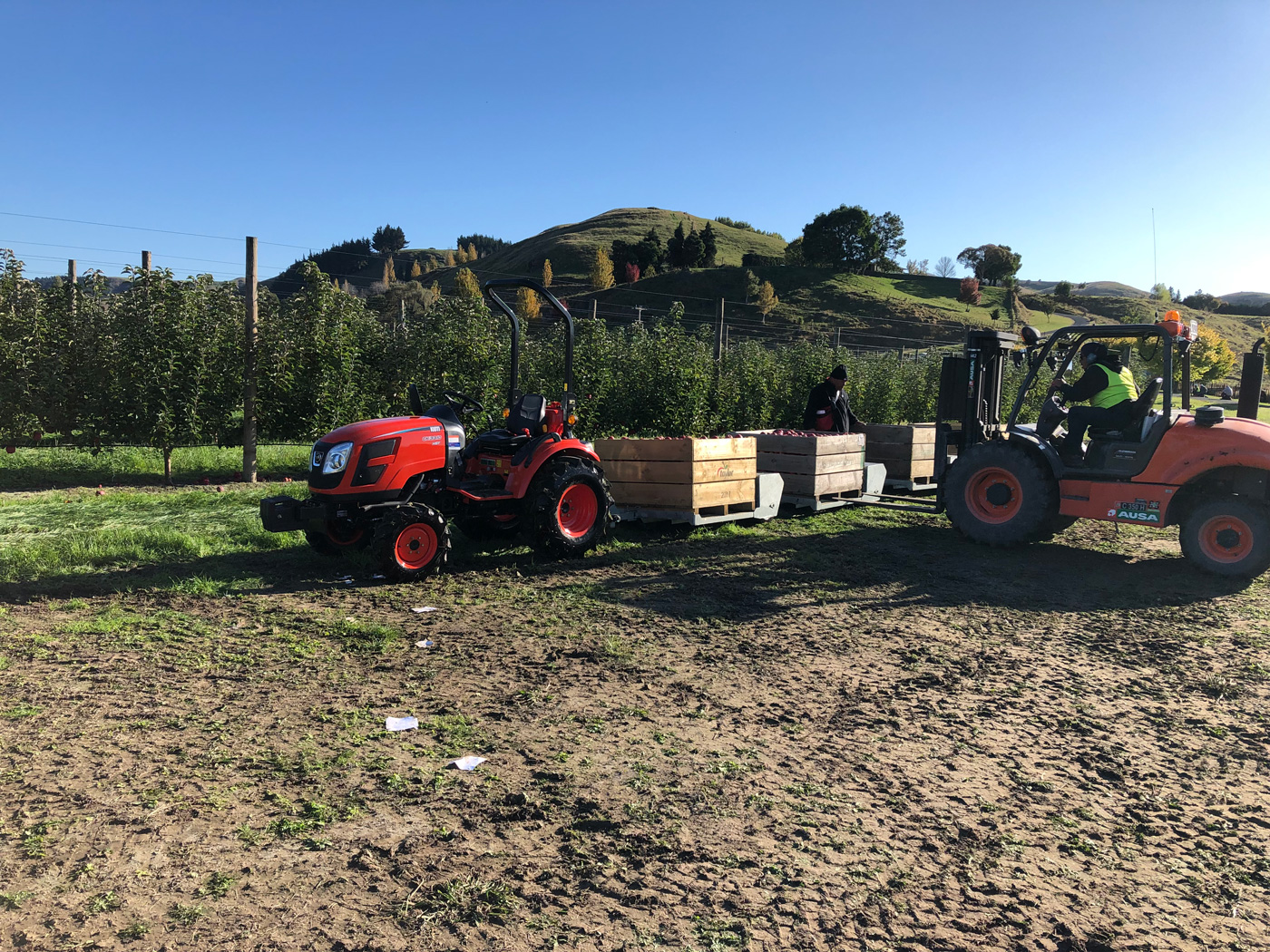 Taylor Corporation is one of the largest family owned apple growers, packers and exporters in the Hawke's Bay. Formed in 1968 by the Taylor family, the business operates over around 300 hectares in the Hastings/Napier region, growing high quality fruit with well-known names such as Royal Gala, Pink Lady and Taylors NZ Queen.
During the peak harvest season, the company handles around 250 tonnes of apples each day, with a team of 300 people made up of 70 permanent workers, complimented by locals, RSE workers and backpackers, with output destined for export to Asia, the Pacific and the USA.
To deliver apples on such a grand scale, productive and reliable machinery is a must, with tractors providing a key link in the logistics chain. In the case of Taylor Corp, the business operated an extensive mixed fleet of units from 60 to 90hp, but thought there were possibilities to use smaller units to reduce costs.
This led to discussions with Power Farming Hawke's Bay, who in turn introduced Taylor Corp to the Kioti brand. Operations Manager Steve Anderson comments, "With a progressive change to narrower spacing in the orchards, we realised that running higher horsepower tractors was costing us money, so after a successful demo, we ended up buying two CK3510 compact tractors with manual transmissions, that quickly became a key part of the operation."
Anderson notes that the tractors were ideal for moving trains of apple bins around the orchards and proved to be ideal platforms for weed control sprayers throughout the operation.
"We subsequently tried a hydro version of the Kioti, that offers two-pedal control for forward and reverse, alongside stepless speed control, making things even easier for the staff, so we took the plunge and ordered two CK3310 HST units", says Anderson.
Offering 33hp from a three-cylinder Daedong engine, mated to a two-stage hydrostatic transmission with cruise control, the compact CK's also offer a flat platform for safe and easy access, a useful rear lift capacity of 550kgs and 43 litres/minute hydraulic flow. Add to that power steering for precise easy control, 4WD and diff lock for any tough going, the tractors are very popular with operators.
"The arrival of the Kioti's made things a lot easier because of their compact size, the ease of use for any of the workers, and a lack of electronics scoring a number of pluses", says Anderson. "Add to that reliability and a low cost of operation, then we believe we're onto a winner. Of course, keeping costs under control is a key factor for us, so a competitive price is a key consideration. Kioti hits the mark there too, so much so we're about to take delivery of a further four CK3310 HST's to further expand our capabilities."
Written by Mark Daniel
---